Entspannt das freie Reden trainieren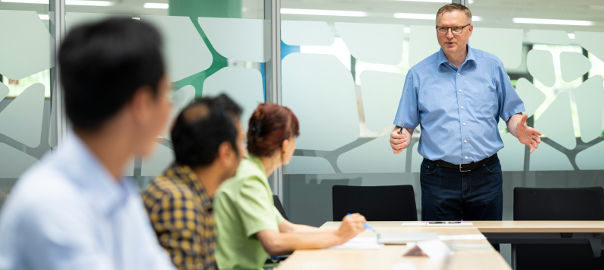 Those who join BASF Toastmasters can improve their rhetorical skills noticeably. Now our offer is expanded: You can train public speaking also in German now! Our colleagues from BASF Rheinklick visited one of our hybrid-meetings. See →here what they wrote, without access to BASF's intranet you'll find a printed version →here.
Alle, die BASF Toastmasters regelmäßig besuchen, verbessern ihre rhetorischen Fähigkeiten erkennbar. Nun bieten wir unsere Clubabende bilingual an — auf unseren Treffen wird auf Deutsch oder auf Englisch gesprochen. Unsere Kolleginnen der BASF Rheinklick Redaktion haben eins unserer Hybrid-Meetings besucht. →Hier ist der Artikel (ohne Zugriff aufs BASF Intranet →hier).
picture / Bild: BASF