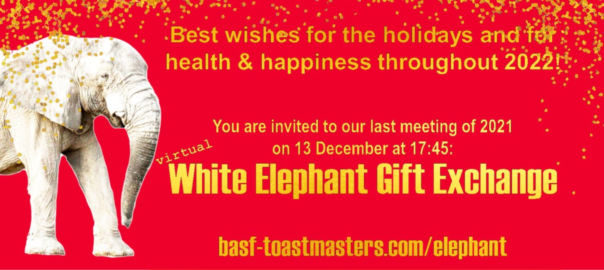 Dear Toastmasters and Guests,
You are cordially invited to join our Online Christmas special event, where we are going to unwrap our virtual Christmas gift and take a look into fellow members' home offices. All of that will we in Toastmasters style which means you'll have a lot of opportunity to train your public speaking skills.
For those wanting to join, we kindly ask you to send the following pictures to elephant@basf-toastmasters.com
your Christmas gift, e.g. a funny, strange, spectacular object you would like one of the participants to receive as a gift (and create a spontaneous speech related to that)
your personal home office, the place where you work in these times at home (this will be also shared during our session — "Which place belongs to Whom?")
Once you've sent these pictures we will share the link for the online event with you! We look forward to having a wonderful and entertaining evening together with you.
Should you have any inquiries, please feel free to contact us. Our first meeting in 2022 will be on 10 January.
Yours sincerely,
Club Officers